---
---
Main Features
● Accurate measurement
● Slim and portable
● One-piece aluminum-magnesium alloy casing
● Long-lasting battery life
● One-button simple control
---



Brand: Alfawise




Measuring Unit: Foot,inch,Meter




Area Measurement: Yes




Measurement Accuracy: + / - 2mm




Laser Wavelength: 620 - 670nm




Color: Platinum

Product weight: 0.0300 kg
Package weight: 0.0470 kg
Product size (L x W x H): 8.60 x 2.20 x 1.60 cm / 3.39 x 0.87 x 0.63 inches
Package size (L x W x H): 12.70 x 6.70 x 1.70 cm / 5 x 2.64 x 0.67 inches

Package Contents: 1 x Rangefinder, 1 x Data Line, 1 x English Manual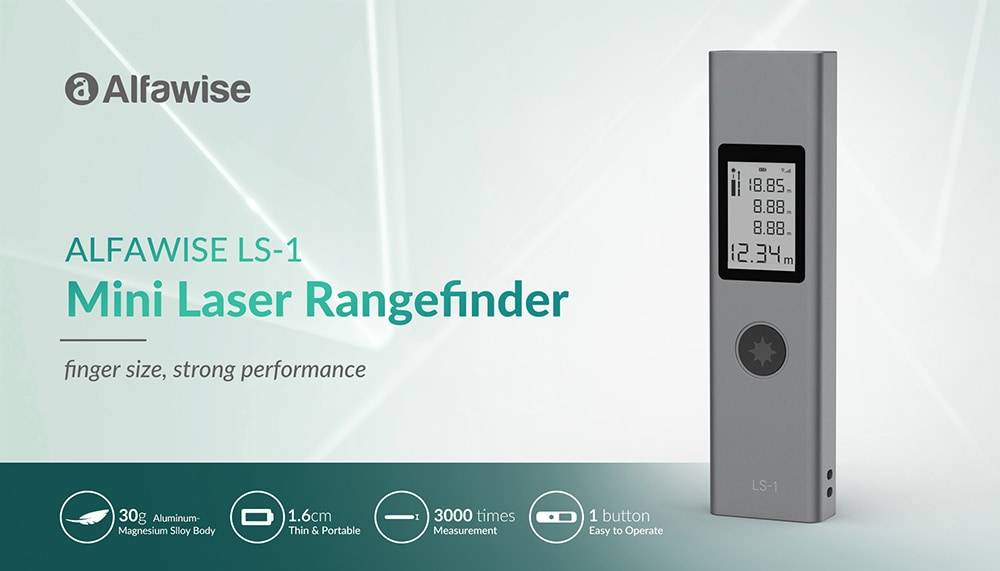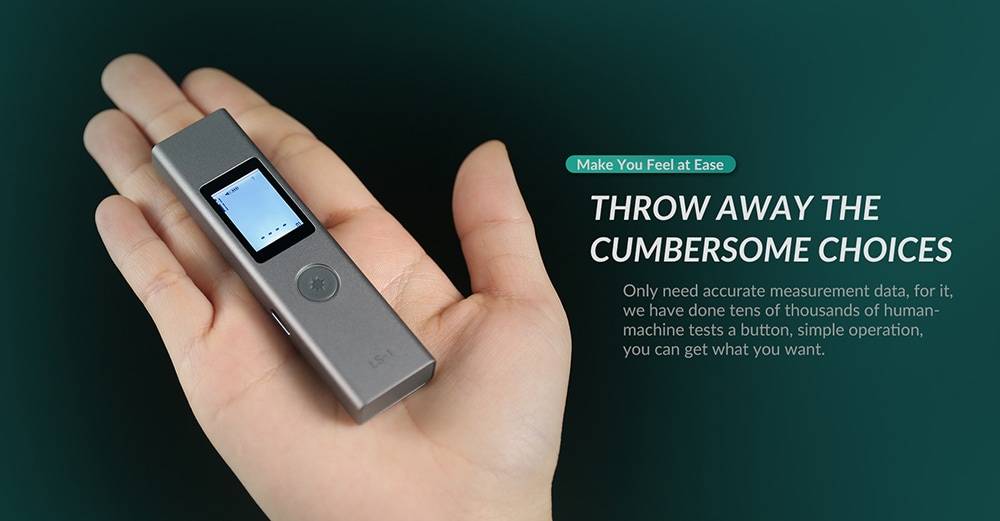 1.How to use Alfawise LS - 1 Portable Laser Rangefinder?
Turn on it, keep the body stable and not shaking. Press short to start measurement and short press again to get measurement data.
2.Where did the measurement data start?
The LS1 supports two measurement methods: the front reference or the rear reference (in the power-on state, long press for 3 seconds, you can switch). The front reference: the distance from the laser front position of the fuselage is measured; the rear reference: the distance is measured from the tail position of the fuselage.
3.How to enter the setting mode? What can I set?
Press and hold the power button for 3 seconds to enter the setting mode (boot mode); in the setting mode, short press to change the data, long press to switch the setting item menu. In the setting mode, you can fine-tune the accuracy within plus or minus 7 mm and turn the backlight on/off.
4.What are the cautions when using it?
The LS1 laser power is less than 1 mW, which is a Class 2 safety laser and does not generate high temperatures. However, it is strictly forbidden to directly direct the eyes of people and animals, otherwise it will cause irreversible visual damage.

The product is not waterproof and should not be used in the presence of condensed water.

Keep the LS1 from shaking during long distance ranging. In the case of shaking, the measurement data is inaccurate and the distance data is obtained for a long time.

For daily cleaning, wipe and clean with a dry cloth, brush, etc.

The screen received scratches on the product: The screen has its own protective film, which can be peeled off before use.
5.Why there is a error and no measurement data?
lease keep the body steady and do not shake, measure again; overrange, please keep within the range; laser point on glass, lens and other surfaces with multiple refraction, please drop the laser spot on the conventional object.
6.What should I do if the measurement deviation is large?
The environment is bad, please add a white reflector.

Correct calibration accuracy on the settings page.
7.Why it can't measure data?
Laser receiving/emission head fouling, cleaning treatment .

The range finder is too large, please place the equipment smoothly and measure again.
8.Why it can't be charge?
Please check the charge cable connection, also you can try other charge cables.
9.What are the error codes mean?
Error code D`E: Measurement distance too close, too far or Pythagorean measurement error.

Error code T.L/T.H: The ambient temperature is too low/too high, please warm/cool the device.

Error code B.L : Battery voltage is too low, please charge it.